The Royal Monmouthshire Royal Engineers (Militia)
-
The Senior Regiment of the Reserve Army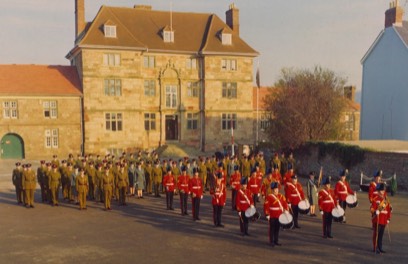 Parading in Monmouth - photo by Steve Cassidy
In the post-war years the Supplementary Reserve ended in 1953, and the Regiment then entered the Army Reserve. It narrowly survived a reorganisation in 1967, but in fact emerged having gained the remnant squadrons of disbanded engineer regiments in South Wales, the West Midlands and Bristol.

The Regiment (in 2015) consists of:
Regimental Headquarters Group at Monmouth
100 Field Squadron (Militia) at Cwmbran, Swansea, Bristol and Cardiff
225 Field Squadron (Militia) at Oldbury, Stoke and Cannock
The Jersey Field Squadron (Militia) at St Helier, Jersey and St Peter Port, Guernsey

The Regiment has provided continuous loyal service to the Crown since at least the earliest recorded muster roll of 1539. It has never been part of the standing regular army, only being embodied in times of war. It is the senior regiment of the Reserve Army by virtue of its age, loyalty to the King in the Civil War, and service in the Special Reserve before World War One.

The Regiment is unique in having a "Double Royal" in its title; one "Royal" having been inherited from the Militia, while one is owed to the Royal Engineers. The regimental cap badge is distinctive, and a green shoulder flash denotes Light Infantry ancestry. It is the only Engineer Regiment to possess colours and the Freedoms of several towns - and to have its headquarters in a fine 17th century house.


The Royal Monmouthshire Royal Engineers (Militia)
is the Engineer Regiment with history and style - and today's young volunteers continue into a sixth century of tradition and service to Crown and Country.


Seniority - why?