The Royal Monmouthshire Royal Engineers (Militia)
-
Iraq - 2003
The Regiment has been involved in Iraq in both the conflict and reconstruction phases.

Forty-four members went out to Iraq during the fighting phase. They were attached to various units and worked in diverse roles as Combat Engineers, electricians, medical technicians, drivers and signallers etc. Their service was very valuable but, being so dispersed, was under-recorded.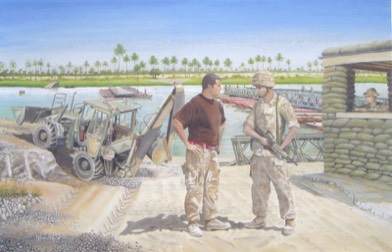 Painting by Michael Tunnicliffe
In the post-conflict phase 100 Company deployed to the Basra area for six months as part of Operation Telic 2. After training for six weeks in the UK, 172 members went out in July 2003 - the hottest time of the year - to carry out a wide range of engineering jobs supporting the British troops. Duties included running the reverse osmosis plants which delivered thousands of litres of water daily, building accommodation for a field hospital, and working on the electricity network around Basra.

Following an attack on Italian forces they had to concentrate on protecting the bases of the Coalition Forces, and the United Nations building in Basra. They erected blast walls, barbed wire, and chicanes to protect camp entrances against car bombs. This work continued throughout their stay, and made life much safer for all the troops.
Also important was sewage and waste disposal. Basra's sewage system had deteriorated during the previous few years, and there were standing pools of grey water and filthy drainage ditches all over the city. The Company mapped the sewage system and helped the Iraqis to get the system working again.

On the transport side they opened a route across the main waterway of the Shatt-el-Arab by repairing the Aldershot Bridge, which had been damaged years previously. Local fishermen had stored explosives in a pontoon of the bridge - and a hand grenade thrown in had destroyed much of its 200 metre length! The squadron had to recover submerged bits of bridge, manufacture new segments up river, and float them down and bolt them into place. They asked an American unit to supply welders - but well drillers arrived! Luckily they had the necessary skills and the bridge opened on time. It saved a 100 km detour for vehicles of up to 30 tons, and opened a route for the United Nations water supply lorries. Unfortunately the 150 ton crane which had been used to build the bridge was driven over it one night, by its Iraqi driver, and the bridge collapsed. So they had to work on it non-stop after Christmas - and re-opened it on New Year's Day.

The Company returned to the UK in January 2004. The deployment had been the largest group of reservists posted to a war zone since World War Two. Fortunately there had been only a couple of injuries - and no fatalities. However one member returned later as a civilian contractor and was killed in an ambush.