This volunteer-run museum tells the story of the Royal Monmouthshire Royal Engineers (Militia) - from the starting point of a muster in 1539, in the reign of Henry VIII. This was before firearms were in general use - and before there was a Regular Army. Over the years it became a Militia regiment, officered by the local aristocracy, and required to maintain law and order within the county. In the 19th century new police forces took over these duties, and the Regiment, disillusioned and keen to serve abroad, switched to a more useful role in the Royal Engineers Reserve. The Double Royal title soon followed. It is now in the Army Reserve - is the only regiment to have survived from the Militia - and is the Senior Regiment of the Reserve Army.

The museum's display focuses on the
Militia system
and the Regiment's links with the powerful Dukes of Beaufort, the local gentry, and Monmouth town. The Regimental Colours and the Freedoms of towns are on view, and exhibits recount the Regiment's service in the Militia and the Boer War, and in the two World Wars, and more recent conflicts. Archaeological artefacts illustrate the earliest defences of Monmouth - and a small section deals with Henry V, the victor of Agincourt, who was born in Monmouth Castle in 1387. Mine clearance, the Home Front and Women's roles, and HMS Monmouth are also featured.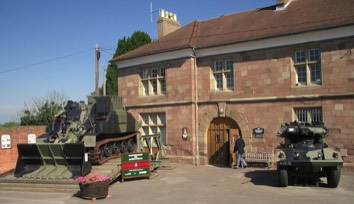 Open from 1st April to 31st October

(or earlier if Easter is early) - or by arrangement

Admission is free - donations are welcomed

The Castle, Monmouth, NP25 3BS

01600 772175

moncasmus@icloud.com

Map - and directions